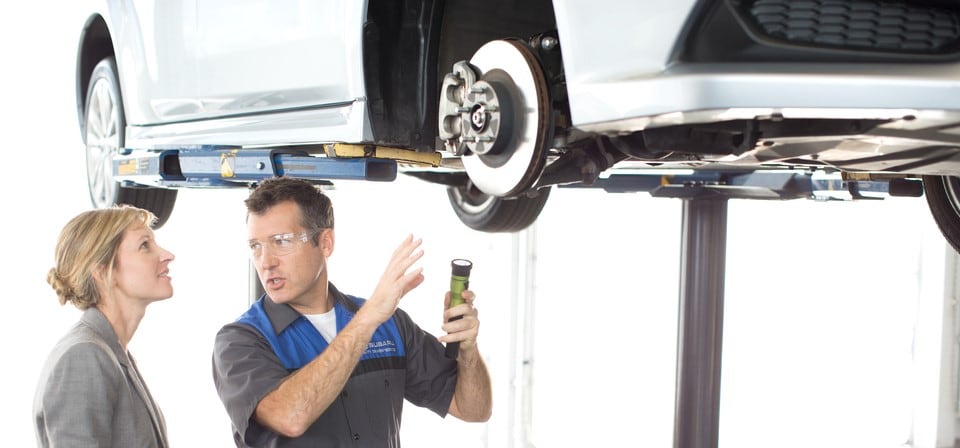 Wheel Alignment Service Ensures Straight and True Travel
If your car veers one way while driving, it likely has an alignment problem. Four seasons of weather in Omaha leaves potholes and road hazards. Your wheels can lose their alignment when the chassis suffers damage and needs repairs. They also often get knocked out of alignment when driving over potholes, speed bumps, clipping curbs, and other road hazards. Worn tie rod ends, and other chassis parts also contribute to alignment problems. Fortunately, they are easy and relatively affordable for Plattsmouth and Council Bluffs, IA drivers to fix. A two-wheel alignment corrects the travel on a front-wheel-drive vehicle. A four-wheel alignment corrects the travel on an AWD or 4X4.
How an Alignment Service Works
Our ASE-certified technicians at Beardmore Subaru in Bellevue NE can do a two- or four-wheel alignment service. We use precision laser-guided diagnostic measurements to check the camber, toe, and castor angles on each wheel. If any are off, we make the necessary adjustments to ensure your car naturally travels in a straight path. In many cases, it means making a simple adjustment to the chassis to get the wheels in proper alignment. Other times, we might need to replace a tie rod end or another part that has suffered damage or reached its service limit. When your car leaves our service bay, it will ride in a straight and true path. That means no more steering gently to counter the effects of misaligned wheels. It also means your tires will wear more evenly and last longer while making your car safer to drive.
Schedule Alignment Service Now
If your car is pulling to one side, we can correct it. Just schedule an appointment online right now. Pick a time that is most convenient for you, and we will do a two- or four-wheel alignment service. That will make your car fun to drive in the Papillion area again, plus our rotating service specials make it even more affordable. You can also stop by our service facility, and we will get you in as soon as possible. We have OEM and aftermarket parts and the best diagnostic tools to make any vehicle run straight and true again.
Hours
Monday

07:00am - 06:00pm

Tuesday

07:00am - 06:00pm

Wednesday

07:00am - 06:00pm

Thursday

07:00am - 06:00pm

Friday

07:00am - 06:00pm

Saturday

07:00am - 06:00pm

Sunday

Closed