The 2021 Subaru Love Promise Customer and Community Commitment Award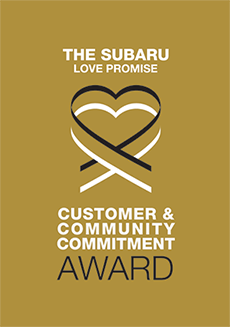 We've been nationally recognized for our dedication to our customers, our community, and the Subaru Love Promise.
We're honored to receive the 2021 Subaru Love Promise Customer and Community Commitment Award. This award nationally recognizes elite Subaru retailers who provide an exceptional customer experience at every interaction with Subaru. These retailers have also demonstrated an outstanding commitment to supporting passions and causes in their local communities in important areas such as the environment, community, health, education, and pets.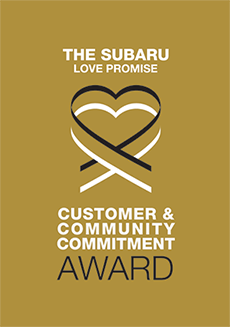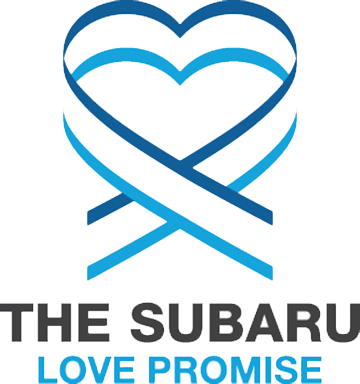 What is the Subaru Love Promise?
Subaru and our retailers believe in making the world a better place and the Subaru Love Promise is our vision of respecting all people. This is our commitment to show love and respect to our customers and to work to make a positive impact in the world.
How is Beardmore Subaru dedicated locally to the Love Promise?
Our Love Promise can be seen in various partnerships with local charities and non-profits. We're grateful for the opportunity, not only to be a part of our community, but to serve it as well.
Love Promise Stories from Beardmore Subaru
Subaru and Beardmore Subaru believe in making a positive impact on the communities in which we live and work. We uphold that belief through our Love Promise Community Commitment. Every month, we select inspiring stories from customers and partners from around our area who strive to support our collective commitment and feature them here
Beardmore supports Food Bank for the Heartland - Travis C
Thank you to the outstanding team from Beardmore Subaru for volunteering at Food Bank for the Heartland and packing community boxes of food for our neighbors in need. The dealership and employees also provide financial support to the Food Bank to make food purchases possible. For the Food Bank, "Beardmore in Action" means providing much-needed help for struggling families across the Heartland. Marilynn and her husband are both on Social Security and are still trying to rebuild their lives after their home flooded during the historic flood of 2019 followed by the challenges of the COVID-19 pandemic. They recently left a mobile pantry distribution event with a box of fresh fruits and vegetables, shelf stable food items and dairy products to help put food on their table for the rest of the month. They are so very grateful and so are we at Food Bank for the Heartland! Thank you for being a partner in our fight against hunger!
---
First Car Experience - Thea Marie G
This is my first car purchase being new to the US and the car industry. I just read consumer ratings and surveys about cars. I watched youtube videos about the car I want to purchase. My dealership, Beardmore subaru, really took the time to explain to me the features of the car during the test drive done by my agent Catherine and even after I purchased it with the Love Encore guy Brandon. They were really patient with me with all the questions I have. This minimized my anxiety of having my first car and what to do with it. I would like to extend my gratitude to them.
---
Airman's Attic - Dave C
Th airman and their families at Offutt Air Force Base thank you for everything that you to do support our organization and the installation. You've been a big part of our organization's fabric over the years and we can't thank you enough for your support and the donations you have provided. The Airmans attic serves thousands of Airman, sailors, Marines and soldiers in the enlisted ranks of E1-E-6, by providing military uniform and household items at no cost. However, if there is a need, rank is not important and we provide what we can for that member. Brooke Beardmore, Lyle Ward and Chris Fasbender recently donated thousands of diapers for our young airman and their children, from new born to toddlers and our military families say- "Thank You" for your dedication to our base and we salute you for what you help provide our community. Dave Cingle Airman's Attic Manager
---
Bringing Hope and Joy this Holiday Season - Emily M
In conjunction with the thirteenth annual Subaru Share the Love® event, Beardmore Subaru hosted a Stuff the Subaru Toy Drive throughout the month of December. For this event, customers were encouraged to stop into the dealership and stuff a Subaru full of donated, unused toys for children with critical illnesses in Nebraska. For many of our wish kids, their wish experience begins with a toy. It's the wish granters' way to get kids excited. What looks like a normal toy to most, turns into a prized possession to a wish child—something they can cherish far after the wish experience has ended. And after the unprecedented year 2020 turned out to be, wish kids need hope and joy now more than ever. We are grateful for Beardmore Subaru and its customers for giving local wish kids the gift of hope this holiday season.
---
Beardmore Subaru Believes in Bellevue - Kevin H
Bellevue is not unlike any other community regarding the negative impact of the Covid-19 pandemic. However, I'd like to think that Bellevue's response to the needs of the community is quite uncommon and quite remarkable. A lot of attention, media exposure and community support has been provided to the businesses in Bellevue. Retailers and restaurants, while certainly taking a financial hit, found creative ways to continue to service their customers and customers have responded in a positive way. And while there are numerous stories of people rallying around Bellevue business, it became apparent that the local non-profits needed some attention as well in order to serve those in need in our community.In mid-May, the Bellevue Public Schools Foundation, the Bellevue Community Foundation and the Bellevue Chamber of Commerce partnered to create "Believe in Bellevue- An Inspired Day of Giving" as a way to recognize and support local Bellevue non-profits who serve those in need in our community. Immediately, Beardmore Subaru stepped up to be a primary sponsor, assisting financially and supporting the marketing efforts to create awareness about the event. From idea inception in mid-May until the on-line day of giving on August 4, Beardmore Subaru partnered and participated in supporting the "Believe in Bellevue- An Inspired Day of Giving" event that raised over $20,000 and helped create additional awareness and additional funding for 20 local non-profits.Beardmore Subaru is an asset to our community in so many ways and their immediate and unquestionable support for this event is more evidence that they truly "Believe in Bellevue."
---
Supporting Food Bank for the Heartland - Angie G
Across the Heartland, families continue to struggle with the economic impact of the COVID-19 pandemic. Many are seeking emergency food assistance for the first time. Thank you to Beardmore Subaru and its extraordinary employees for supporting Food Bank for the Heartland during this crisis. Beardmore Subaru donated 106,697 critical meals for children, families and seniors across Nebraska and western Iowa. Beardmore Subaru employees also volunteered at one of the Food Bank's mobile pantry sites during the summer distributing meals to at-risk children. From March 20 to August 7, the Mobile BackPack program provided 421,175 children's meals. We are grateful to Beardmore Subaru for generously supporting Food Bank for the Heartland's mission!
---
BPSF Grateful for Beardmore Giving - Jennifer P. - Jennifer P
When tax dollars fall short, the Bellevue Public Schools Foundation is honored to support the Bellevue Public School District, filling funding gaps and investing in initiatives and special projects that enrich the lives of students and educators in various ways. These efforts, from classroom grants for teachers to scholarships for students and reunion assistance for BPS alumni, are made possible in part thanks to the amazing support provided by Beardmore Subaru and the Hamilton family. In 2019, Beardmore and the Hamilton's made a generous five-year pledge to the BPS Foundation that ensures the continuation of some of our most vital programs -- programs that foster the development of tomorrow's leaders and support academic heroes, also known as teachers. In fact, last year BPS Foundation was able to give back our largest amounts ever to the Classroom Grant and Student Scholarship programs -- a combined $75,000! Beardmore and the Hamilton family are true pillars of our community who go above and beyond time and time again. A heartfelt thank you for all you do!
---
Giving Back - Even in a Pandemic - Ryan N
Your true friends stand by you during the tough times. At Offutt Air Force Base, we normally hold several events throughout the year to support military families. This year, most of our events and activities have been canceled due to the COVID-19 pandemic. One of our annual events is Operation Backpack, which provides free school supplies to children in military families. The event was adapted so families could drive-thru and pick up their school supplies safely. We rely on commercial sponsors to help make it a truly special event. Many local businesses are struggling right now, and it's challenging to support community projects. When we reached out to our partners at Beardmore Subaru, they didn't hesitate. They provided pencil bags and other school supplies to support the event. During this difficult year, it's great to have community allies show courage, strength, and unity.
---
More Than a Thank You! - Amanda O
Giving back to your community...it shows every day in the work you do! We are so fortunate in the beautiful Bellevue/Offutt Community to have an incredible business such as Beardmore Subaru. They have done so much throughout our schools from learning materials for a STEM library on wheels, to math night for students and parents, to student leadership summit participation, to books in the hands of our students. While the list goes on its even the extra time out of their day to have an active presence at our events. The support and partnership is amazing, one that we hope continues for decades to come. Thank you for being Champions for Children!
---
Frozen dance - Ryan N - Ryan N
Nebraska is known for its great people, strong work ethic.....and crazy weather. Several snowstorms dropped record amounts of snowfall this past winter. At Offutt Air Force Base, we hold our annual Father-Daughter Dance in February. It's one of our most popular events every year. Everyone gets dressed up, the kids dance, dads have a lot of fun, and moms get a nice break for an evening. Right on schedule, a blizzard forced us to postpone the event to a chilly Sunday afternoon. Despite several inches of snow, blowing winds, and the postponement, Chris Fasbender brought his daughter to the dance. They also had princess crowns for all the kids. It's hard not to smile when you're wearing a crown. We rely on commercial sponsorship to support many of the events on base. Beardmore Subaru is one of our most generous and consistent partners. They help support everything from small family events to enormous air shows. Beardmore genuinely makes Offutt Air Force Base a better place, by shaping and improving the lives of our military community.
---
Trunk or Treat and Food Drive - Erica C
Many people believe that the problems associated with hunger are confined to small pockets of society or certain neighborhoods but the reality is much different. Right now, many people right here in our community are struggling with hunger. They may have recently lost a job or are disabled and unable to work. They are often hard-working adults, children and seniors who simply cannot make ends meet. The Tri-City Food Pantry was created when the Glory Christian Center pantry and the St. Columbkille pantry combined and moved to the Heartland Family Service building in 2007. The Tri-City Food Pantry is a non-profit 501(c)3 organization.The pantry is run primarily by a group of volunteers who assist clients, sort donations, stock shelves and bag groceries. On October 27, Beardmore Subaru teamed up with the local Subaru Ambassadors and the Mandalorian Mercs Costume Club to collect donations for the Tri-City Food Pantry, while having some Halloween Trunk-or-Treat fun. Chris Fasbender, Director of Operations, and Tristan Graham, Service Advisor, went above and beyond with this event, providing mini pumpkins and paint for the kids, and providing food for all attendees. We collected 13 boxes of food in one afternoon! As a Subaru Ambassador, I am proud to partner with Beardmore Subaru to help support the local community!
---
Barktober at Beardmore - Manuela H
Mani Hallett Barktober at Beardmore "Humanity's true moral test, its fundamental test consists of its attitude to those who are at its mercy: animals." -Milan Kundera- Dog abuse is slowly becoming more and more of a dangerous epidemic spreading throughout our world. All of these defenseless dogs are spending their lives in fear, hoping for someone to notice their pain and save them from a dark and terrifying place, that for most of them, is all they know, and that's why our group and our sponsors, Hands, Hearts, and Paws and Beardmore Subaru, are here to help. CBL is a community based learning project where a group of 2-4 talented juniors work together to better the place we call home. Our group consists of Mikey, Hailey, Trey, and myself, Mani Hallett. Our group took the small idea of helping abused dogs and grew it into a massive, community-engaged project. We decided to hold a fundraising meet-and-greet to help find these loving animals a forever home and help them hit the restart button on life. Our hope was to spread kindness throughout our community, especially in such a busy and chaotic time in our world, and we believe we did just that. By holding our event we were able to invite people into a place of positivity leading them to feel happy and good knowing they were there to support these sweet creatures. Besides, how could you not be happy surrounded by dogs! Our main question while creating this event was how can we spread awareness of what people sometimes fail to acknowledge. For instance, statistics show nearly 6.5 million animals, 3.3 million beings dogs, enter shelters around the world saving these dogs from unthinkable conditions every year. However, this is not counting the thousands, possibly millions, not being saved or even worse, are too late to be saved, according to American Society for the Prevention of Cruelty to Animals, better known as the ASPCA. This means that almost as many animals as there are people are being found beaten, starved, and deprived of life every year. The saddest part however is not the fact that these poor dogs are being treated badly and have to be moved to shelters, but the fact that over 1.5 million of these animals have to be euthanized due to their conditions or their mental state blockading them from letting anyone person or animal in, according to the ASPCA. These poor dogs were not only clinging to life, but had no choice but to give it up because of their treatment. Their fight was lost and they couldn't stop it. This is where we came in. We worked night and day to create a positive environment and by help people realize this is a very real issue that can't be solved without peoples help. Our efforts to spread awareness are still continuing and we won't stop until things change. However, with the help of Hands, Hearts, and Paws, Beardmore Subaru, and the generous donations from our vendors we were able to make a small idea big. With the help of Beardmore, my group and I were able to meet with their marketing company, Zaiss, and get tips and tricks on how to get the word out. Thanks to them, we were able to get in contact with many helpful people allowing us to get not only one, but two billboards up, our very own logo and banner, a strong social media presence. This lead to a great turn-out with the Sarpy County K-9 Unit and Channel 3 News showing up to help broadcast our event. This then allowed us to raise $426.00 on a snowy Sunday afternoon in a community where a group of people came together to help an amazing cause. Without people there's nothing for them. No hope, no life, nothing. Our biggest thanks to Beardmore Subaru for letting use their location and for giving us the resources to make this possible.
---
Beardmore Subaru Shares the Love - Close to Home - Jenna S
On June 15th, Carey Hamilton, owner of Beardmore Subaru, along with Chris Fasbender, Director of Operations, and a team of dedicated Beardmore employees were already planning their third annual delivery to Children's Hospital when they found out this year cancer had touched close to home as one of their fellow employees had a nephew being treated for leukemia on the very floor we were visiting that day. They were so happy to be passing out the blankets and craft kits to the kids, and even though they couldn't enter the room of their co-workers relation, they felt so good, to be able to personally spread words of encouragement, and let the family know that they were there, and they were routing them on in their fight. Leukemia & Lymphoma Society Board member, Karen Warner, had also joined us for the visit, and out in the hall she too ran into a friend and her son who were also being treated for leukemia, Karen knows all too well what these families are going through, as not so many years ago she walked in their shoes as her own son fought leukemia and won! This day was full of reminders why we all do what we do, and how important the fight we are fighting is, because loved ones are being diagnosed every day! The Beardmore team was relentless in their mission to make sure every child on the 6th floor that day was given a blanket and craft kit, and they brought smiles to each and every one they were able to interact with! Beardmore Subaru knows more than ever how important the LLS mission is, and they shared Love, Hope, and Warmth to all the patients and families they met that day!
---
Beardmore Supports Healthy Development - Kristy F
Sarpy County Cooperative Head Start is grateful for the generous support from Beardmore to obtain quality materials that will support healthy physical development. Head Start is a Federally-funded program that provides comprehensive early childhood education, health, nutrition, and family engagement services to children ages birth through five years of age, as well as to pregnant women. Head Start knows healthy development takes root in early childhood. Health problems in the earliest years are strongly correlated to health problems in adulthood. Head Start works to mitigate these effects by providing opportunities for healthy physical activity. Because of the generous support from Beardmore, Sarpy County Cooperative Head Start was able to purchase items that will support engaging, fun, healthy movement opportunities for children enrolled in the program. Thank you for your support towards children and families in our Sarpy County community!
---
Spreading Warmth and Hope - Alisha P
On June 27, 2017, together for the second year Beardmore Subaru met up with the Leukemia & Lymphoma Society to spread hope and warmth throughout Children's Hospital & Medical Center. After unloading two Subaru's full of 80 blankets and 10 craft kits, the team set out to deliver the care packages to patients receiving treatment. Children's Hospital & Medical Center was very thankful for the donation. Rob Harding, Community Resource Specialist for Children's told us: "The hospital can often be a bit of a scary place, and sources of comfort like stuffed animals and blankets provide some of the best medicine to help alleviate those fears. The patients at Children's Hospital & Medical Center in Omaha were extremely grateful to receive some incredibly comforting blankets when representatives from the Leukemia & Lymphoma Society and representatives from Beardmore Subaru recently paid a visit. In addition to blankets, kits with crafts and activities were presented to patients who were unable to leave their rooms. Children's relies on the generosity of others to help us achieve our mission of providing extraordinary care to children from a five state region – and beyond – and we are immensely grateful to LLS and Beardmore Subaru for their kindness and compassion. The blankets they recently delivered to our patients provided a wonderful 'cocoon of comfort' to those needing a little extra TLC. And that's some of the best medicine anyone can offer!"
---
Subaru and NWF Loves the Earth - Sherri F
Our students had a great time planting our garden plants. They were excited to learn about the plants they were planting and check almost daily to see how they are doing. They can not wait to see them bloom and see what wild life they attract.
---
Beardmore Subaru wants kids to ride safely! - Rachel D
Motor vehicle crashes are the number one killer of children ages 3-14, and over 70% of car seats are being used incorrectly. Even though Subaru won at least seven "2017 Top Safety Picks" by the Insurance Institute for Highway Safety (iihs.org), Beardmore Subaru wants to do more to protect children. Each month this dealership clears a space for Safe Kids Sarpy/Cass to teach parents how to correctly buckle their kids into, and install, car seats. It is a true example of how Beardmore Subaru cares for it's community. With the indoor space they make available, we were able to check and install seats through the winter and into the hottest days of the summer. To date we have doubled the number of families assisted from 2015-16! The bottom line is that Beardmore Subaru's generosity has ensured twice as many local kids are riding safely in their car seats. Another big part of our child passenger safety program is to make sure that ALL children, regardless of financial means, are able to ride in a safe, age appropriate car seat. Safe Kids Sarpy/Cass maintains an inventory of seats that can be distributed to families in need. Earlier this year our inventory ran drastically low, we thought we would have to turn families away. Again, Beardmore Subaru proved it's commitment to care for our community, and the safety of our children, by donating $500 to purchase additional seats. We are incredibly grateful for the ongoing support of and partnership with Beardmore Subaru!
---
Sometimes a simple "thank you" doesn't come close - Jim H
Dear Mr. Doll: Sometimes a simple "thank you" doesn't come close to saying what needs to be said, and this is one of those times. The impact Subaru is having on the people we serve is absolutely profound. I have the honor of representing a relatively small local Foundation that helps about 350 families get back on their feet and attain self-sufficiency. This takes funding, and like every not-for-profit charity, we do our best to raise money. For some time now, we have partnered with Beardmore Subaru of Bellevue, Nebraska as a local charity designee for your "Share the Love" program. This year Brian & Carey Hamilton, Doug Christensen, and Chris Fasbender of Beardmore made sure Subaru buyers were aware of our local Foundation and many selected us as their designated charity. To us, the award was huge - representing an entire year's worth of fundraising for us in one award! Subaru doesn't have to do this sort of thing – but does. Beardmore didn't have to highlight us – but did. Please know that you, Subaru and Beardmore have reached into a small community and touched the hearts of folk in need. If that is what you were aiming at with your "Share the Love" program, you hit a home run.
---
Beardmore Subaru Sponsors Jazz on the Green - Alyssa K
Dear Subaru, Thank you for sponsoring one of our most successful and highly attended Jazz on the Green concerts! The record crowd of 11,700 really enjoyed your participation in every facet of the event. Your tent area was destination number one, drawing attendees to view the Crosstrek and Outback up close and personal in the tail gate theme. Plus, giving attendees the chance to win a $100 gift certificate and great gift basket from the local pet shop was really generous! What our staff heard about most was the volume and variety of your free give-aways. Talk about generous! Dog-loving choices of collapsible dog bowls made everyone happy and we loved seeing these, the food scoops and clip-on poop-bag containers on the blankets spread across the green space. Owner Carey Beardmore Hamilton's welcome announcement was perfect, making attendees feel right at home at this event custom-made for our close community. Thanks, too to your partner, Hands, Hearts and Paws for sidling up next to your display with rescue dogs for the crowd to love. They were a big hit, and I hear a few were adopted that night! We are thankful for your sponsorship of this event, now in its 30th year. Our community relies on the vision and generosity of local, caring companies like Beardmore Subaru to make a difference. We are thankful for your robust participation that included something for everyone and then some. You are a valued community partner with a lot to love.
---
Beardmore Subaru Staff Visit Cancer Patients - Brianne K
The Leukemia & Lymphoma Society (LLS) – Nebraska Chapter was proud to partner with Beardmore Subaru in Bellevue, Nebraska in June during Subaru Loves to Care month to provide support to patients fighting cancer. Beardmore Subaru provided 100 blankets to be donated to local cancer patients to provide comfort and warmth. As a part of the Nebraska partnership, Beardmore Subaru leadership was able to join with LLS to deliver these blankets and care cards directly to patients at Children's Hospital & Medical Center in Omaha, Nebraska. The opportunity to interact directly with the patients receiving the blankets was a humbling and touching experience. Some highlights from our visit: One little girl refused to accept a blanket initially, but at the invitation Beardmore owner, Carey Beardmore Hamilton, was encouraged to open a box and feel the blanket. By the time she had ventured into the hallway and opened the box, her demeanor changed entirely… before long, she was wrapped in a blanket with a big smile on her face, and proudly posed for a photo with her blanket and the Beardmore staff. A little boy received a blanket from the Beardmore staff and agreed to pose for a photo… his dad asked him to show us his "rock star" and he posed for a great photo showing his fierce personality! His bravery and positive demeanor brought Beardmore employee Chris Fasbender to tears. The entire experience was humbling and touching for each of us and we can't thank Beardmore Subaru enough!
---
Leukemia & Lymphoma Society - Brianne K
The Leukemia & Lymphoma Society (LLS) – Nebraska Chapter was proud to partner with Beardmore Subaru in Bellevue, Nebraska in June during Subaru Loves to Care month to provide support to patients fighting cancer. Beardmore Subaru provided 100 blankets to be donated to local cancer patients to provide comfort and warmth. Subaru staff and customers were encouraged to write a message of hope to local patients through "care cards" and receive a LLS/Subaru bracelet to help spread awareness of LLS's mission to find a cure for leukemia, lymphoma, Hodgkin's disease, and myeloma while improving the quality of life of patients and their families. As a part of the Nebraska partnership, Beardmore Subaru leadership was able to join with LLS to deliver these blankets and care cards directly to patients at Children's Hospital & Medical Center in Omaha, Nebraska. The opportunity to interact directly with the patients receiving the blankets was a humbling and touching experience. The Leukemia & Lymphoma Society is so thankful for great partners like Beardmore Subaru and Subaru of America and their employees for their dedication to improving the communities they live and work in. This beautiful partnership is a great example of what an amazing community Omaha is!
---